Meet Dr. Lisamarie Brazeau
I love orthodontics.
I love my patients.
There is nothing like giving a person the confidence to smile!
Technically, orthodontics is like putting together a 3D puzzle: it's not just lining up the teeth; it's that, plus keeping the root in bone, making them touch the other teeth correctly when you chew, balancing the bite in harmony with the jaw joint, and making the smile fit your face! A person's treatment plan is modified each visit, as I adjust the process with the next several steps in mind.
My patients are the highlight of my day and why I wake excited to come to "work" in the morning. I view each person as part of my family and strive to give everyone the best clinical and customer care, always respectful of their unique situation.
I'm a second-generation orthodontist, following in my mother's footsteps. After growing up in a rural area of Wyoming, when I was 13 my family moved to Omaha, Nebraska, so my mother could attend dental school. We then moved to Florida, where she completed her orthodontic training. When I finished my orthodontic residency, my mother and I were the first mother/daughter orthodontists in a strongly male-dominated field. My mom is so proud!
— Dr. Lisamarie Brazeau
Brazeau Orthodontics
Dr. Brazeau and her team have served the Wenatchee community for many years. They moved the practice to the current location in 2011. The building is special to Dr. Brazeau because her father, who has since passed away, helped her build it. He even designed and built the waterfall out front.
Education and Continuing Education
Undergraduate studies – Creighton University
Doctorate of Dental Surgery – Creighton University
Master of Science and orthodontic residency – University of Florida
Dr. Brazeau has completed many postgraduate courses that focus on optimizing treatment efficiency and the best biological outcome. In addition to Invisalign® Masters courses, she's taken SPEAR Education courses, Andrews Foundation's "Six Elements of Orofacial Harmony," and the two-year Roth/Williams Achieving Functional Goals in Contemporary Orthodontics.
By staying current on technological and treatment advances, Dr. Brazeau ensures her patients receive exceptional care. She strives to balance maximum aesthetics with bone/gingival health and functional comfort.
Professional Memberships
American Association of Orthodontists
Pacific Coast Society of Orthodontists
Washington State Society of Orthodontists
American Dental Association
Washington State Dental Association
Beyond the Practice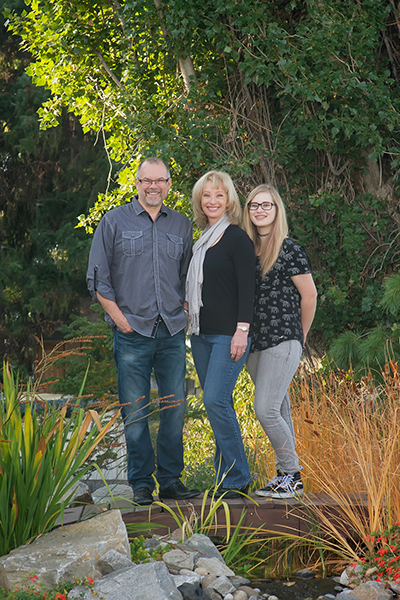 After a childhood in Thermopolis, Wyoming and adolescence in Omaha, Nebraska, Dr. Brazeau attended the University of Florida and was studying ancient Chinese literature when she met her future husband, Joe. After his graduation, the couple moved to Omaha so she could attend Creighton School of Dentistry, then returned to Gainesville for her orthodontic studies.
As soon as Dr. Brazeau finished her orthodontic residencey, the family moved across the country to Wenatchee. Liz, their daughter, was two at the time and the drive was exhausting. They were almost in town when they got a flat tire – in Quincy! Finally at their new home, Liz spent half an hour doing log rolls on the carpet: the family home in Florida was uncarpeted!
More than a decade later, Liz is in high school and the family is still in Wenatchee. Joe runs the practice's in-house lab: pouring plaster models and making retainers. Liz works in the office, too; she helps with sterilization and at the front desk.
At home, the family shares their lives with many pets: Axel is their Golden Retriever, plus they have two cats, a hamster, four Koi fish, and eight goldfish. During what free time she has, Dr. Brazeau enjoys gardening and tending to her Koi pond.